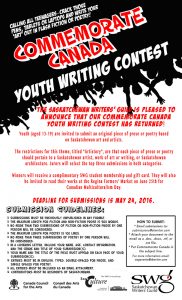 Calling all teenagers–crack those pens, tablets or laptops and write your 'Art' out in flash fiction or poetry!
The SWG is pleased to announce that our Commemorate Canada Youth Writing Contest has returned! Youth (aged 13-19) are invited to submit an original piece of prose or poetry based on Saskatchewan art and artists. The restrictions for this theme, titled "Artistory", are that each piece of prose or poetry should pertain to a Saskatchewan artist, work of art or writing, or Saskatchewan architecture. Jurors will select the top three submissions in both the prose and poetry categories.
Winners will receive a complimentary SWG student membership and gift card. They will also be invited to read their works at the Regina Farmers' Market on June 25th for Canadian Multiculturalism Day.
Deadline for submissions is May 24, 2016.
For more information, please email: swgevents@skwriter.com