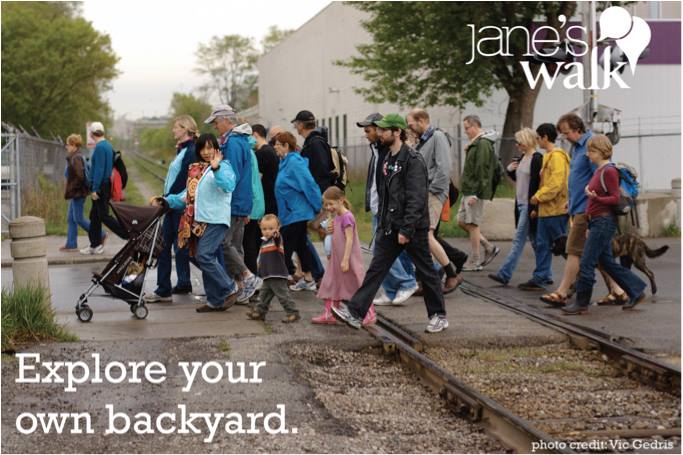 Regina's 8th Annual Jane's Walk festival is set to take place from May 6th to May 8th in neighbourhoods across the city. Over the weekend hundreds of Regina residents will be taking part in community lead walks that celebrate the built and natural heritage, history and culture of our city. Jane's Walks is a free event and is open for everyone to attend.
Jane's Walks are lead by volunteer community members who are passionate about the everyday and the extraordinary in our city. This year's edition of the festival includes eight walks taking place across the city. Some of this year's walks include:
Victoria Park Heritage Conservation District – Led by Bernie Flaman
A look at the buildings and structures surrounding Victoria Park which provide a complete chronology of architectural styles of the 20th century.
Far Away Place – Not So Far Away – Led by Jim Elliott
An exploration of various features of Upper Wascana Lake including the history of the Saskatchewan Science Centre, Pelican Island, Far Away Place and the Habitat Conservation Area.
Design Lessons from the Cathedral Area Neighbourhood – Led by Bill Neher
A walking discussion about the components that make for a great walkable neighbourhood and what lessons we can apply in new neighbourhoods.
Walk for Peace and Justice – Led by PeaceQuest Regina
An examination of the horror of wars, past and present, as well as past and present injustices in our society, and the need to work for peace and justice.
For a complete list of walks including schedules, descriptions and maps, please visit the Jane's Walks website at http://janeswalk.org/canada/regina/
Jane's Walks is a global event inspired by the legacy of Jane Jacobs, one of the foremost urban thinkers of our times. Jane's Walks inspire citizens to get to know their city and each other by getting out and walking. In 2015, Jane's Walks were held in over 100 cities worldwide. To date, Regina has hosted over 75 walks throughout the city.
For more information, please contact:
Laura Pfeifer
Head Organizer, Jane's Walk Regina
janeswalkregina@gmail.com