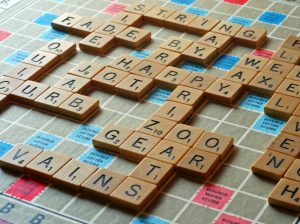 Scrabble for Africa
Organized by:  Grandmothers 4 Grandmothers Regina
Date:  Sunday, October 30th, 2016
Time:  1:30 PM to 4:00 PM
Location:  All Saints Anglican Church Parish Hall, 142 Massey Road, Regina
To Register:  Email g4gregina@sasktel.net or Phone 306-789-3250
This is no ordinary Scrabble tournament!   We're modifying conventional rules, encouraging both individual and team participation.  For a small donation to the Stephen Lewis Foundation, players will be able to buy expert advice or cheat sheets.  We're not looking for great SCRABBLE players; we're looking for great people to play SCRABBLE!  Prizes will be randomly awarded throughout the afternoon.  TOP prizes of the day will go to the top individual fundraiser, the top team fundraiser (3 or 4 players) and the top team score (3 or 4 players).
Each player must register and collect pledges and funds in advance (pledges of $20 or more are tax-deductible).