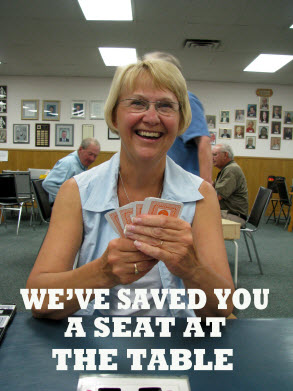 The Regina Bridge Club welcomes you to learn or improve your bridge game with games 5-6 days weekly. Afternoon games begin at 1:00 p.m.; evening games at 7:00 p.m., and a morning game Wednesdays at 10:30 AM.  More information is available by calling 306-584- 1858 or checking our website:  www.reginabridge.com.
Why play Bridge?  You will meet new people of all ages and from all walks of life while exercising your mind in a fun atmosphere.  Beginning on September 12, there will be lessons Monday evenings at 6:30 PM for beginners and people who have played a few times. For lesson information, call 306-586-7044 or email gspence@accesscomm.ca.
You are welcome to attend our coffee party on Saturday, September 10 at 10 AM at 349 Albert Street.  Come and see what we have to offer!