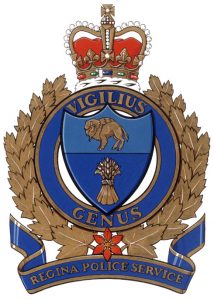 Prairie View Community Bulletin
Regina Police Report – 2015/16
I would like to take this opportunity to introduce myself to your community and give you some insight into the Regina Police Service activities in and around your community and the city.
My name is Evan Bray and I am the Inspector in charge of the Regina's North District at the Regina Police Service.  The large north district represents over 50% of the city of Regina's geography and serves 18 different communities, of which Prairie View is one.  Also my responsibility covers all issues related to Traffic Enforcement for the entire City of Regina.
Our front line patrol officers are each assigned to a geographical region of the city.  This allows them to become familiar with the various communities and better understand and respond to the unique needs each possesses.  The Prairie View Community is represented in the North West Zone of our Service Delivery assignment.
The 2015 Crime Statistics for the City of Regina once again show the Prairie View Community is very low on the comparison in terms of crime.  There are other communities in the north region of Regina with more than double your crime rate.  In a city wide comparison, the Prairie View Community would be considered one of the safest areas to call home!
A further look into the reported incidents in your community, reveal that over half of them are traffic related.  These include traffic accidents, abandoned vehicles and specialized traffic enforcement.  That is even further encouragement to know that crimes such as residential break and enters, assaults and even robberies are extremely low.
Looking ahead at 2016…..
The Regina Police Service's goal is to eliminate crime all together and provide a safe community for Regina's citizens to live.  To that end, there are many proactive activities that you can do to assist us in meeting that goal.
We are currently experiencing some challenges with Theft From Vehicles and Mischiefs in the North end of the city.  In many cases, these are crimes of opportunity.  The suspects committing these crimes look for unlocked doors in vehicles and buildings.  Suspects often target poorly lit (or low light) areas to conceal themselves and their crime.  We have put some strategies in place to combat this trend and ultimately reduce victimization.  We ask all Regina citizens to help up by:
Locking vehicles, garages and sheds.
Ensure all security and outside lights are operational and working.
Be observant with who belongs (and appears to not belong) in your neighborhood. No one knows your neighbourhood better than you!  Pay attention to your home and your neighbours'.    Does that vehicle or person appear suspicious?  What is the time of day?  What is the activity?  Don't be afraid to speak to your neighbour, make an inquiry or call the Regina Police Service with a concern.
Report any mischief including graffiti that occurs and once we have gathered all evidence we require (usually at minimum a photograph of the graffiti) please clean up the damage. It's a proven theory that seeing one piece of graffiti in a neighborhood often acts as an open invitation for others to occur.
We will be directing traffic enforcement in various locations throughout your community with a goal to enhance community safety through safe driving habits.  If you have a suggestion for an area that you feel would benefit from a traffic enforcement focus, please feel free to email me at the address below.
Please, be careful with your use of social media.  It's very common for people to "announce" an upcoming vacation to a warm tropical destination.  The unintended consequence is often an invitation for someone to help themselves to your TV while you are away.  Be wise in who you tell and how you tell them.  Communication is also a positive when directed in the right way!  A trusted neighbour can be a great resource in keeping an eye on your property while you are away.
These are just a few reminders to keep your family and home safe, while continuing to enjoy living in one of the safest communities in the city!
Thanks again for the opportunity to meet you through this forum.  I would be happy to attend any upcoming meetings or provide follow-up direction or answers to any issues you may have.  Feel free to contact me at the contact information listed below.
Yours in community safety,
Inspector Evan Bray
Regina Police Service – North District, Community Services
306-777-8608
©2018 Prairie View Community Association